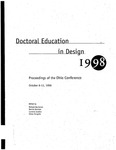 Description
The 1st Doctoral Education in Design Conference brought people from diverse institutions and situations together to discuss a common concern: doctoral education in design. Participants from nineteen countries assembled on the campus of The Ohio State University in Columbus,Ohio for a conference sponsored by The Ohio State University Department of Industrial, Interior, and Visual Communication Design, the Carnegie Mellon University School of Design, and academic journal Design Issues. Speakers described educational efforts shaped by diverse motivations, resources, histories, and student constituencies.
Publication Date
8-10-1998
Publisher
Carnegie Mellon University, School of Design
Citation
Buchanan, R., Doordan, D., Justice, L., and Margolin, V. (eds.) (1998) Proceedings of the 1st Conference on Doctoral Education in Design (1998), 8-11 October, Columbus, Ohio, USA, Carnegie Mellon University, School of Design. https://dl.designresearchsociety.org/conference-volumes/49
Creative Commons License


This work is licensed under a Creative Commons Attribution-NonCommercial-No Derivative Works 4.0 International License.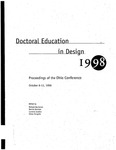 COinS