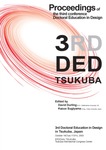 Description
The recent growth of design research of all kinds continues at a fast pace with a number of challenges related to: standards of training, funding for doctoral candidates, emerging forms of research, interdisciplinarity, the purposes of research, and issues around research and practice. These are particular concerns of the academy, but there are also large challenges arising from the imperatives of the knowledge economy, and the profound changes occurring in the professional practice of design.
The third conference on 'Doctoral Education in Design' was hosted by several Asian design societies in partnership with the Design Research Society, and was held in parallel with the 6th Asian Design Conference, in Tsukuba, Japan, in October 2003. The call for papers stressed an overriding theme of the 'Practice of Research'. We were particularly interested in identifying best practice, and the practical application of best practice, with a focus on organising and teaching the doctorate in design.
Publication Date
14-10-2003
Publisher
Design Research Society & Asian Design Conference
Citation
Durling, D., and Sugiyama, K. (eds.) (2003) Proceedings of the Third Conference of Doctoral Education in Design, 14-17 October, Tsukuba, Japan.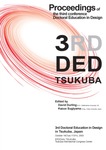 COinS