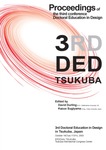 Description
The 3rd conference on 'Doctoral Education in Design' was hosted by several Asian design societies in partnership with the Design Research Society, and was held in parallel with the 6th Asian Design Conference, in Tsukuba, Japan, in October 2003. The call for papers stressed an overriding theme of the 'Practice of Research'. We were particularly interested in identifying best practice, and the practical application of best practice, with a focus on organising and teaching the doctorate in design.
Publication Date
14-10-2003
Publisher
Design Research Society & Asian Design Conference
Citation
Durling, D., and Sugiyama, K. (eds.) (2003) Proceedings of the Third Conference of Doctoral Education in Design, 14-17 October, Tsukuba, Japan.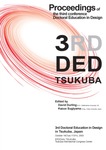 COinS