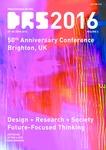 Description
The underlying premise was that 50 years of design research has provided us with a sound understanding of design and a solid foundation upon which to build. The interesting questions, then, appeared to us as not so much how we do more of the same – though that of course has its place – but in how we use what we now know. Hence the three broad questions that the papers in these conference proceedings respond to: How can design research help frame and address the societal problems that face us? How can design research be a creative and active force for rethinking ideas about Design? How can design research shape our lives in more responsible, meaningful, and open ways?
Publisher
Design Research Society
Citation
Lloyd, P., and Bohemia, E. (eds.) (2016) Proceedings of DRS2016 International Conference, Vol. 4: Future–Focused Thinking, 27–30 June, Brighton, United Kingdom, Design Research Society. https://doi.org/10.21606/drs.2016
Creative Commons License


This work is licensed under a Creative Commons Attribution-NonCommercial-Share Alike 4.0 International License.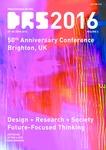 COinS