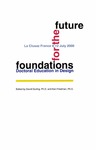 Description
The La Clusaz conference focused on four central themes:
1 philosophies and theories of design
2 foundations and methods of design research
3 form and structure for the doctorate in design
4 the relationship between practice and research in design
Participants presented findings, debated ideas, proposed benchmarks for the future development of the doctorate in design, and entered into dialogue on how to develop programs. The conference encouraged participants to interact, using each session as a genuine opportunity to confer. One important goal of the conference was establishing significant working relationships, research alliances, and partnerships among universities.
Publisher
Staffordshire University Press
Citation
Durling, D., and Friedman, K. (eds.) (2000) Foundations for the Future - Doctoral Education in Design, 2000, 8-12 July, La Clusaz, France, Staffordshire University Press. https://dl.designresearchsociety.org/conference-volumes/29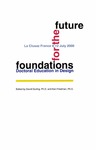 COinS