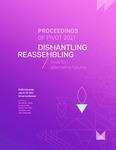 Description
This volume contains the proceedings for Pivot 2021, the 2nd International conference of the Pluriversal Design Special Interest Group of the Design Research Society (DRS). The conference was held in collaboration with the Public Visualization Lab of OCAD University and invited designers, scholars, artists, and changemakers for two days of intercultural conversations about decoloniality and societal transformation. Pivot 2021 aimed to identify tools and practices of dismantling and reassembling that could favour ways of reshaping human presence on Earth and concrete cases of alternative future-making from all around the world.
Publication Date
22-7-2021
Publisher
Design Research Society
ISBN
ISBN: 978-1-912294-43-5
DOI
https://doi.org/10.21606/pluriversal.2021.0052
Citation
Leitão, R. M., Men, I., Noel, L., Lima, J., and Meninato, T. (eds.) (2021) Proceedings of Pivot 2021: Dismantling / Reassembling, 22-23 July, Toronto, Canada, Design Research Society. https://doi.org/10.21606/pluriversal.2021.0052
Creative Commons License


This work is licensed under a Creative Commons Attribution-NonCommercial-No Derivative Works 4.0 International License.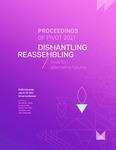 COinS