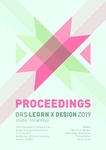 Description
The Fifth DRS Learn X Design International Conference for Design Education Researchers took place July 9-12, 2019 with the main theme "Insider Knowledge" at Middle East Technical University, Ankara, Turkey. A total of 111 paper submissions, 11 workshop proposals, and 28 PhD Pit-Stop applications were received. In all, 86 papers were presented and six workshops were conducted in a variety of topics, ranging from emerging practices in design education to innovative approaches in bridging design education and society. The conference hosted 150 delegates from 81 institutions in 31 countries.
Publisher
METU Department of Industrial Design
Citation
Börekçi, N., Koçyıldırım, D., Korkut, F., and Jones, D. (eds.) (2019) Proceedings of Learn X Design 2019: Insider Knowledge, 9 - 12 July, Ankarra, Turkey, METU Department of Industrial Design. https://dl.designresearchsociety.org/conference-volumes/8
Creative Commons License


This work is licensed under a Creative Commons Attribution-NonCommercial-Share Alike 4.0 International License.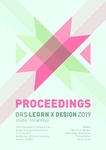 COinS